You are currently browsing the tag archive for the 'watercolour' tag.
Made it!
Wow, that was a marathon adventure and like all good runners, towards then end I had to slow down rather than just stop and call it quits.
But like all things, its when you're stretched and challenged that growth occurs.
The daily (or technically I should say sustained) practice of showing up to paint has indeed kept me creative and accountable for doing so.
And I have found that my muscle memory and my hand eye co-ordination has improved and that I'm as surprised as anyone when I can capture a plant in a few strokes of a brush and with a limited colour range.
In short, practice makes you better at looking and capturing.
Which shouldn't surprise me really.
We know if we exercise that our muscles become stronger but probably don't talk much in those terms of the process of practising creatively.
And we should, because it does work the same way.
I have thoroughly enjoyed naming the plants in my garden – many of which I have inherited from the previous owners or Mother Nature.
And I have a unexpected sense of satisfaction to have two books full of catalogued plant names.
But I am glad it's finished now and as the season winds down I won't have the challenge of finding something new to include.
With hindsight 100 was a lot and maybe 75 would have suited me just enough.
So when I calculated that there were only enough pages in the book for 96 I took that as a divine compromise 😉
I have been falling and leaping my way through this #100dayproject of Painting Something From My Garden Everday.
It's not quite been everyday in a daily sense – more like nothing some days and three things another.
But for the most part it's become a regular practice and I've kept up…just.
Some days I accepted a less than polished finished piece in favour of doing something rather than nothing.
I've also embraced my garden weeds and found them to be pretty and deserving of a place in the final book.
I've developed a mix of approaches to method and media.
On some rainy days I was forced to complete the work inside and I found the results were far better than when I'm painting irl.
However the feeling of, the experience of painting outside is far greater and brought a greater deal of well-being that gets lost as soon as it becomes studio work.
And I have enjoyed playing again with coloured pencils, pastels and collages solutions to painting white flowers on white paper.
That's about it for now as things reach the final stretch – thank you for reading.
On June 1st I decided I'd commit to doing a 100days project. There were a few reasons for this:
For Christmas I got given a seed advent calendar which has been a lot of fun but also a lot of work – 25 different kinds of annuals to grow has kept me on my toes in the greenhouse. But it also means I have a lot of lovely plants to enjoy.
I had also enjoyed my residency at Winterbourne H&G so much that I had decided to try and document my own garden in a similar matter. However as is often the case when things are at home, it seems harder to paint and draw in my own garden. I have found time to do some studies and textile work but it doesn't document the changes as I'd hoped because I can't keep up the frequency of work needed.
Lastly, I'm back working at MAC (hurrah) and when I'm focussing on delivery I often find my own creativity takes a backseat.
So for all those reasons I started 100days of drawing/painting something in my own garden.
It doesn't need to be finished or good and it can be quick or slow and I'm also finding I automatically apply several styles to my work but I'm not over-thinking it – just doing it, noticing and letting it be whatever it is.
Here's the first six days.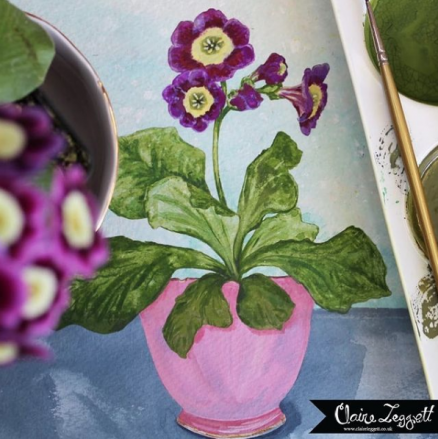 It's been a little while since I've painted some small pieces and I generally always feel inspired when Spring brings us such lovely flowers to work with.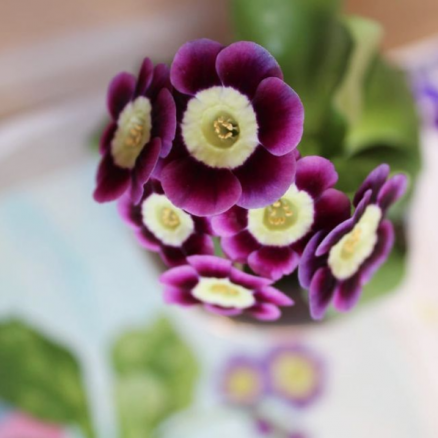 This Auricula was a lucky garden center find – they have been scarce for a few years; apparently growing conditions have not been good.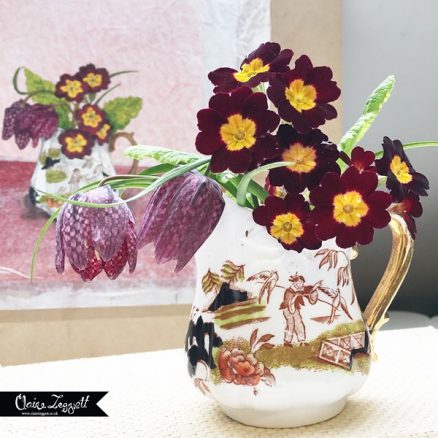 And this one is the product of my own endeavours in the garden, having cultivated a small Spring flower patch over the last few years. This year it's been at it's best with the addition last year of the Snakeskin Fritillary's.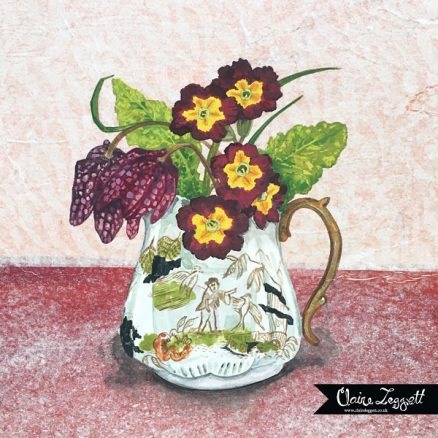 I've wanted to try and paint them for a while – they were deceptively difficult but I enjoyed the challenge. Now I'm looking forward to seeing what May brings to paint.

This week I hung an exhibition of my work at the Coach House Gallery which is at Winterbourne Botanical Gardens, Birmingham.
Winterbourne is part of the Birmingham University campus.
It's an Edwardian Arts and Crafts house built for the family of John Nettlefold in 1903.
It's last owner bequeathed it to the University where it became the Botanical Gardens in 1944.
It's one of those magical places that has held onto the history of the past and simultaneously successfully embraced the future.
And my colourful work has ushered Spring in a little earlier than Mother Nature (it's trying to snow today)
Exhibition hanging takes patience and stamina (good step-ladder muscles!)

One of the most fun things to do was fill the glass exhibition case.
I have laid out sketchbooks, pattern design swatches, an old paint palette, some tubes of paint, brushes, pencils and design work that shows how I use my original paintings digitally.
It was fun to set the scene.
And now I'm happily heading off to a restful weekend – there's a G & T with my name on it!
***
Exhibition is up until 12th March
Hard to believe that I started this painting twenty days ago at the 2015 Patchings Festival as part of my demonstrating.
I never find it easy to paint whilst being watched, but people love to see how you go about your work and it makes the event unique and is a great talking point. So I was slower than in normal studio conditions and I also set myself quite the challenge putting pink flowers on pink floral, throwing in some lace-work and tackling that composition from above.
I didn't get it finished at the festival so in-between travelling up and down the country looking at University open days with my youngest, I've been fiddling with this.
Gonna call it done now; successes, flaws and all!
Had a good, long Bank Holiday weekend? I had an unexciting but satisfying time of purging the kitchen cupboards of clutter! Let me know if you can beat that 😉
I'm sat here now with the rain and wind lashing at the window pane so I thought some Marrakesh colour would be a welcome thing!
I did a little watercolour painting in my sketchbook and was transported back to the hot souks of Marrakesh – the perfect antidote to a little Spring storm.
After being busy with art events over the last few weeks, I have been catching up with h/w and garden work this week and what a lot there was! It always amazes me the amount of energy plants have to throw up huge stems from tiny seeds – shame to pull them up really but the garden was running away with itself.
I did manage to snatch a peaceful few hours to paint these simple little beauties before they got potted out into hanging baskets. I love the opportunity pansies offer to bleed watercolours together to create a sweet little pansy face.
It's been a great year for tulips in the garden.
I re-subscribed to a magazine and got some Sarah Raven bulbs as a freebie.
And they have been beautiful – big, blowsy flowers – interesting colours and shapes. Apricot Beauty was the first to fully flower last week.
It hurt A LOT to cut three of the nine stems to bring in and paint.
But here they are immortalised 🙂
I am just back from a tres blustery walk in the woods with Lottie and ready to share a little sunshine here because it is just so crazy miserable out there today.
Here's proof that the sun did shine for a moment yesterday – honest!
These are close up's of some bright, sunny flowers I've been painting for greetings cards – the kind you find where there is sunshine to grow them – remember sunshine? warmth? being able to walk along without fear of that creaking branch actually snapping off and falling on your head?!
When I got back to my desk, my inbox sent me a little sunshine too, with news of a , an invite to apply for a craft fair and this quote from Good Reads :
Folks are usually about as happy as they make their minds up to be

Good advice Mr Lincoln – I am now ignoring the hail stones beating on the skylight window and going back to a happy, sunny painty place 🙂