You are currently browsing the tag archive for the 'watercolour paintings' tag.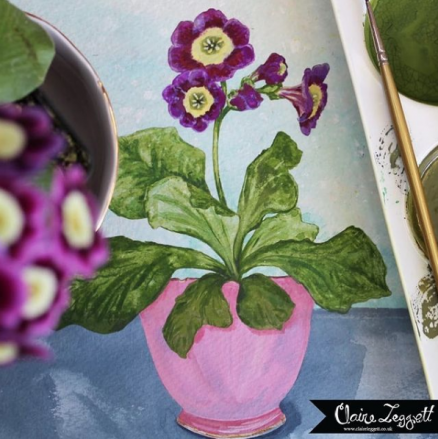 It's been a little while since I've painted some small pieces and I generally always feel inspired when Spring brings us such lovely flowers to work with.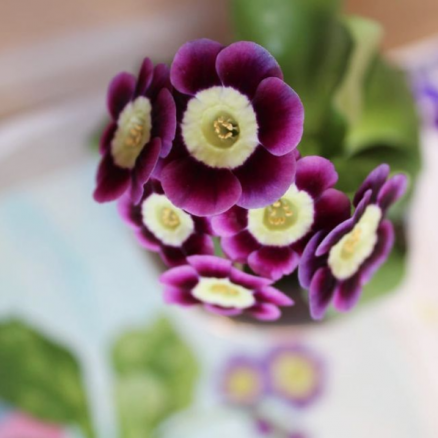 This Auricula was a lucky garden center find – they have been scarce for a few years; apparently growing conditions have not been good.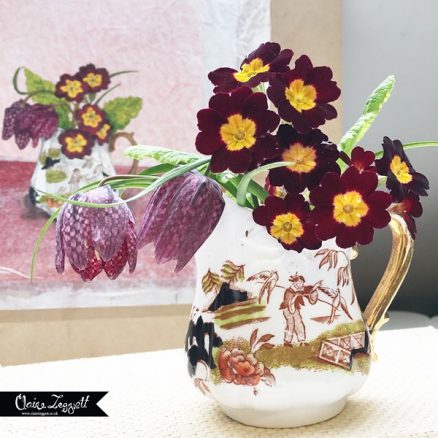 And this one is the product of my own endeavours in the garden, having cultivated a small Spring flower patch over the last few years. This year it's been at it's best with the addition last year of the Snakeskin Fritillary's.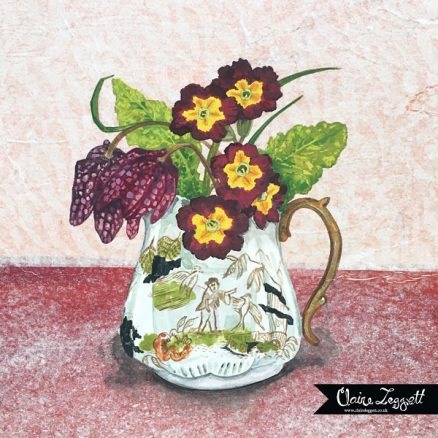 I've wanted to try and paint them for a while – they were deceptively difficult but I enjoyed the challenge. Now I'm looking forward to seeing what May brings to paint.
Back in May I finished my Artist in Residency at Winterbourne House & Gardens but was unable to hold an exhibition of all the work I'd completed due to the pandemic. Life is moving on and although Winterbourne is now open again, it has been reorganised and any possible exhibition still looks a long way off.
So I have set up the work at home and filmed it. It's part exhibition of works (paintings, print, textiles and embroidery) and part artists talk where I tell you some stories behind the paintings or processes I have used.
I hope you might have a watch – it's on YouTube here and it's completely free to view.
I have updated my website to show all the work and a lot of the products I had made which were destined for sale in the shop during the run of my exhibition, if you fancy taking a look www.claireleggett.co.uk
Todays calendar page is not wrong!
After a lovely busy Summer bursting with family affairs, teaching, holidays and other welcome distractions, today is the first day I find myself home alone and able to concentrate.
So I picked this interesting Hydrangea flower from the garden and got re-acquainted with my paintbrush. It feels good 🙂
Everything has a season so they say and this year has not been my season for the garden (poor neglected thing).
However some past efforts continue to pay dividends – thank you Roses, that white weed thingy, the cow-parsley plant, my patio pots and of course the Alchemilla Mollis.

I snipped a few things I could find the other day  – all pleasingly lime green, green and yellow (thank you garden for self-theming the colours) and popped them into my 25 pence bargain jug for an afternoons play with the paints.
Just popping in at the end of a long day fuelled by 5 hours sleep (yes I'm a worry guts!)
This was my car once hb had packed it solid left to right, top to both.
The blank space before ….
Hb (the patient one) hanging pictures straight and evenly spaced!
The final scene – my little home for the next four days 🙂
I can tell you about my week through my 'painting-a-day' paintings.
May 23rd    © Claire Leggett 
An orchid from the salad at our Thai meal to celebrate being wedded for twenty whole years – yes I did take a flower out of the salad and yes, I did say 20 years!
A pale pink, double-headed Aquilegia which was the only casualty of having a new fence put up down one side of the garden.
A raspberry pink, candy striped Dahlia bought on impulse at a grocer's shop in Ledbury.
I was in Ledbury (which is a sweet, quintessentially English market town) to drop off some paintings at Shell House Gallery.
Saturday 26th May is the opening day of "Artists Garden" – a group show. I love painting flowers from my garden and so was delighted to be able to join in. While I was there I bought these dahlias and some other fabulous bedding plants to paint, so the cycle continues.