You are currently browsing the tag archive for the 'watercolour painting' tag.
I am a third of the way through my #100daysproject of painting 100 things growing in my garden.
Any sustained effort on a project has highs and lows; I have had days of lag and disinterest, days where time is just too short and I fall behind and days of joy and peace found painting in quiet spots.
Mostly it's been a good discipline. A bit too time consuming on some days.
But I'm loving having a little book recording my garden growing.
And above all it's forced me to identify and name all the plants I'm recording which has been very enlightening and informative.
On with the next!
On June 1st I decided I'd commit to doing a 100days project. There were a few reasons for this:
For Christmas I got given a seed advent calendar which has been a lot of fun but also a lot of work – 25 different kinds of annuals to grow has kept me on my toes in the greenhouse. But it also means I have a lot of lovely plants to enjoy.
I had also enjoyed my residency at Winterbourne H&G so much that I had decided to try and document my own garden in a similar matter. However as is often the case when things are at home, it seems harder to paint and draw in my own garden. I have found time to do some studies and textile work but it doesn't document the changes as I'd hoped because I can't keep up the frequency of work needed.
Lastly, I'm back working at MAC (hurrah) and when I'm focussing on delivery I often find my own creativity takes a backseat.
So for all those reasons I started 100days of drawing/painting something in my own garden.
It doesn't need to be finished or good and it can be quick or slow and I'm also finding I automatically apply several styles to my work but I'm not over-thinking it – just doing it, noticing and letting it be whatever it is.
Here's the first six days.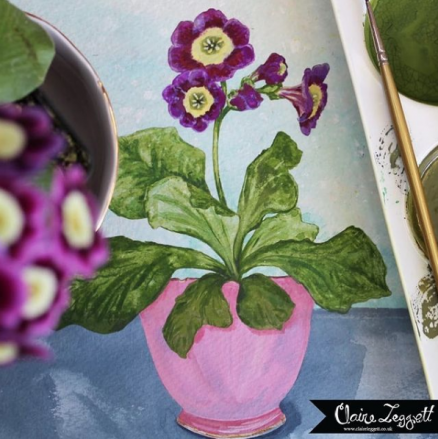 It's been a little while since I've painted some small pieces and I generally always feel inspired when Spring brings us such lovely flowers to work with.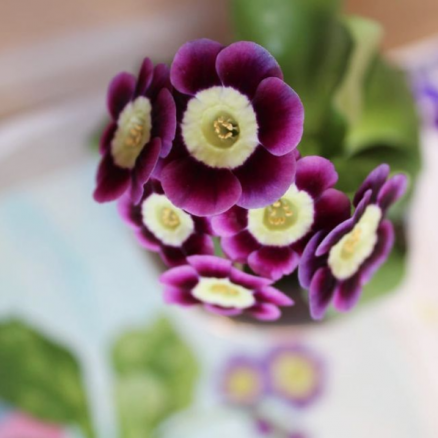 This Auricula was a lucky garden center find – they have been scarce for a few years; apparently growing conditions have not been good.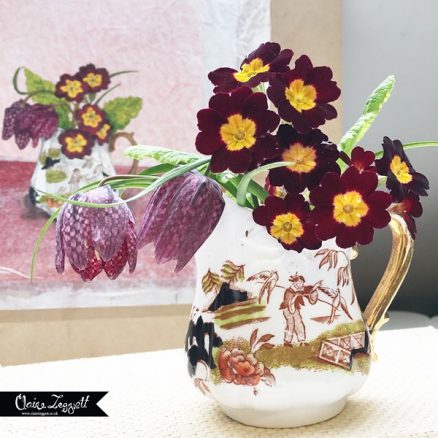 And this one is the product of my own endeavours in the garden, having cultivated a small Spring flower patch over the last few years. This year it's been at it's best with the addition last year of the Snakeskin Fritillary's.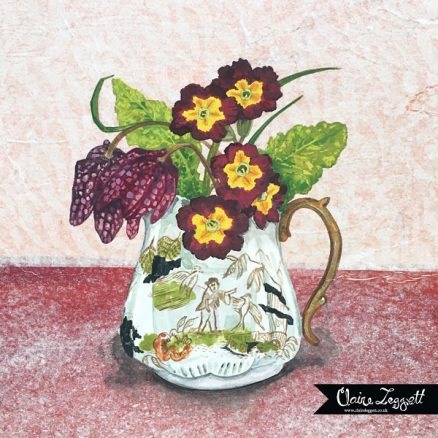 I've wanted to try and paint them for a while – they were deceptively difficult but I enjoyed the challenge. Now I'm looking forward to seeing what May brings to paint.
My residency period at Winterbourne House & Gardens is coming to a close at the end of this month so I thought I'd catch this space up with some of the work I've completed.
There has been a wealth of inspiration – too much to do full justice to. I have had to pace myself and just do what presented itself in the moment.
Sometimes that was scenery and sometimes individual plants.
And it's fed into the production of all sorts of outcomes which I'll share here – textiles, printed and embroidered, paintings, pattern designs and two sketchbooks bursting with reference material. Videos of these are best seen on my Instagram pages-  one here on my Residency page http://www.instagram.com/artist_winterbournehg and one on my personal Instagram page instagram.com/claire_leggett –  both up at the top in the Hilights reel.
Here to talk roses! They've been brilliant this year until a few weeks back when we began this tropical weather we're enjoying in the UK and a month in they've suffered from lack of water.
This week I've dedicated myself to trying to paint some before they're completely passed it but they've wilted as fast as I can paint them.
A messy rose strewn desk is a lovely thing though.
So I've done what I can and I'm off to enjoy a g&t in the sun – happy weekend 🙂

A little painting inspired by the beautiful South African Protea via my local Marks and Spencers!
Half term has been a welcome break in the normal in and out of running classes and has afforded me a block of time to paint. It's been a while – on day one I had zero concentration for it and had to really plug away but it always falls into place if I keep at it.
And the slower mornings have meant a cup to tea in bed accompanied by something from my enormous post-Christmas reading pile. Inspiration abounds now.

This week I hung an exhibition of my work at the Coach House Gallery which is at Winterbourne Botanical Gardens, Birmingham.
Winterbourne is part of the Birmingham University campus.
It's an Edwardian Arts and Crafts house built for the family of John Nettlefold in 1903.
It's last owner bequeathed it to the University where it became the Botanical Gardens in 1944.
It's one of those magical places that has held onto the history of the past and simultaneously successfully embraced the future.
And my colourful work has ushered Spring in a little earlier than Mother Nature (it's trying to snow today)
Exhibition hanging takes patience and stamina (good step-ladder muscles!)

One of the most fun things to do was fill the glass exhibition case.
I have laid out sketchbooks, pattern design swatches, an old paint palette, some tubes of paint, brushes, pencils and design work that shows how I use my original paintings digitally.
It was fun to set the scene.
And now I'm happily heading off to a restful weekend – there's a G & T with my name on it!
***
Exhibition is up until 12th March
Todays calendar page is not wrong!
After a lovely busy Summer bursting with family affairs, teaching, holidays and other welcome distractions, today is the first day I find myself home alone and able to concentrate.
So I picked this interesting Hydrangea flower from the garden and got re-acquainted with my paintbrush. It feels good 🙂