You are currently browsing the tag archive for the 'pattern design' tag.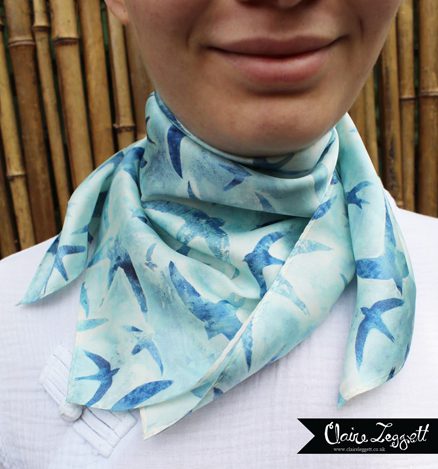 I feel like I took a deep breath back in March to brace for what the pandemic might mean for me as a self-employed artist who gets her kicks (and most of my income) from face-to-face collaboration and teaching.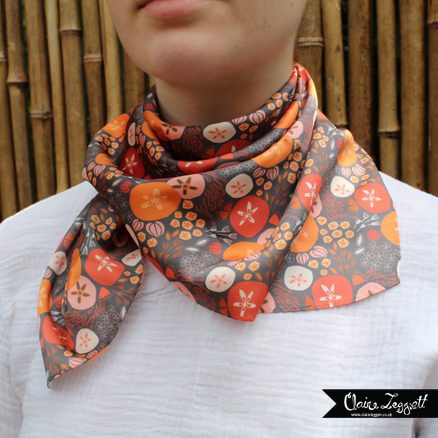 And I think I've been holding it ever since, which can't go on, so as part of my exhalation I'm releasing all the products I had made and squirrelled away for The Big Event Which Didn't Happen (my Residency show @artist_winterbournehg)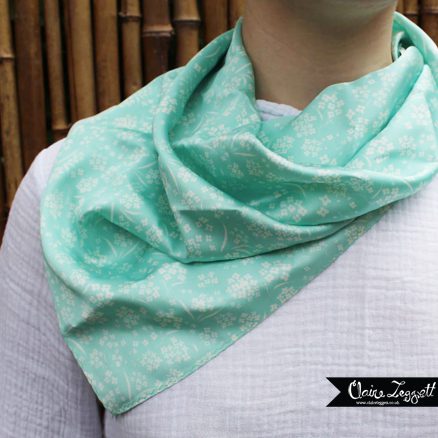 There are 3 scarves all designed and printed by me – Swifts, Hoya and Alyssum scarves, £18 each inc p&p in the UK ( postage quotes for other places) They are up in the Textile Art tab if you're at all interested.
The first print design I made back in Spring 2019 as part of my Residency at Winterbourne HG is also the last I have to show you here.
I had been quietly sketching in the Walled Garden when a mouse felt brave enough to leave one bed, cross the grass and dive into another just to my side.
That mouse made it into the print as did the flowers and birds that I observed around the site at the time.
It's been test printed up in a number of colour-ways by heat-press transfer printing and screen-printed by hand after I'd exposed a screen but ultimately the details are so fine that it's only got digital printing in it's future.
It nearly got birthed as wrapping paper for the shop but in the end the margins for production on it weren't viable – such is the life of a designer; making by hand is the most satisfying and sometimes also the least! But it remains a firm favourite of mine and I hope one day it can show the world it's charm.
On Saturday 18th May 2019 The Tutors Exhibition  – at macbirmingham opens and in it will be one of my pattern design pieces and products – would you like to hear the story of how it came about?
I recently watched The Creative Brain on Netflix, which advocated the importance of open-ended play for creativity to blossom and this, is very much a story of that process too.
It all began with a painting I did one afternoon where I textured up a piece of watercolour paper with a lovely deckled edge and then overlaid white paint leaving the negative space to describe birds flying. And that was it – that piece of creativity sparked something else and off I went down that rabbit hole leaving this painting in the plan-chest drawer for a few months.
Then by a series of serendipitous events I found myself a member of the wonderful SteamhouseUK community where I get to play about with the most amazing array of machines and learn techniques and processes that have been invented since I was last in college.
Sublimation printing (or dye sublimation printing as it is sometimes also known) is the process of transferring images onto a fabric (or other substrate) using a heat-press to print the image. At macbirmingham we have a heat-press and we use disperse dyes to paint and print onto paper which can then be heat-pressed onto fabric (if you think that sounds fun come along to my Tues afternoon class and have a go!)
But I had never hoped to ever have access to using an actual Sublimation printer until now! In this case the disperse dyes are in the printer ink cartridges and the computer sends your image to print onto heat resistant paper in wide format.
At Steamhouse the heat-press can print onto fabric up to 175cm in width. The heat-press technique is also great for capturing textures in designs onto fabric. The Tutors show was coming up. All this got me thinking what could I make with the size of fabric that I could print to exhibit for the show?
One morning I woke up with the answer ringing clearly in my mind and it didn't take long to make it a reality – I'm single-minded like that sometimes – use the Swifts painting to make a pattern and construct a kimono!
The pattern had to be cut down the back and re-seamed in order for all the pieces to fit one at a time into the heat-press for printing and the Swifts pattern was easy enough to put into technical repeat using Photoshop so that I could use the sublimation printer to print an all over repeating pattern.
After that it was a steady job to sew it all together nicely including a partial lining so it looked good hanging up for exhibition.
If you're local and can make it to MAC to see the show ( – Tues – Sun, 11am – 5pm, First Floor Gallery) you'll see that kimono hanging on the wall and who knows, after the exhibition is over I may even wear it 😉
I have a ta-dah for you today – a tablecloth I hand-printed recently.
One reason I like to keep blogging is to record such things – when I looked back to see when I started my Fish project, I was surprised to see the date on the upload was May 2017. It takes a long time for some ideas to percolate and evolve and then actually get made.
You can find the beginning of my Fish sketchbook workings here and here although the actual inspiration came back in Summer 2016 whilst on holiday in France when I saw a lovely tablecloth in Fragonard.
I'm very lucky to have the best p/t job freelancing at MAC Birmingham the most brilliant arts center.
And sometimes I can use the space which I needed to for this big print job.
As you can see, the following day I wasn't so fortunate and was squeezed onto the floor of my studio at home!
It took about 20 hours to print using around 10 colours so I won't be going into production anytime soon but it's important to art-play as it releases surprising creative avenues.
And it did – 6 fishy themed surface pattern designs got designed last week to go to market. Now wo'betide anyone who spills red wine on it!
Happy New Year all.
End of week 1 of a shiny new year and I've kept my new year resolution to paint something everyday – please click link to see the Flipagram.
Fingers crossed for weeks 2, 3, 4 ..!
After along hiatus in painting activity around here, I have unpacked some lovely new paints and re-discovered my happy place. Inspired by our French holiday I have added some colour and warmth to my otherwise cold studio.
One way to cope is to wear lots of layers – these dungarees are 27 years old! They started life with me at art college, have decorated every house we've ever lived in, have helped create most of my paintings and are still going strong today
 I took delivery of a new sewing machine which is able to do free-motion machine embroidery – lots of fun ahead adding that to hand-prints and the like.
And yesterday I allowed myself a moment of celebration when I saw the book I'm in on the shelf in my very own local Waterstones bookshop!
Have a happy week everyone.
I have a v. large pin-board in my studio which is great except I have a tendency to fill it with things I'm inspired by but then not ever get round to following that inspiration. It's become a bit like a huge pin-board of my brain or a way of filing things and putting them off – you know, a little drawing here, an inspiring card there = a big pile after a while.
So one of my 2016 intentions has been to actually set to and get making.
This is making for a bit of a random but fun way of working as I pick my way through the pinning, taking each as it comes without much planning.
Here's a new pattern design which started as a post-dog walk sketch of some finds in the wood which I then put into a pattern repeat and coloured with a palette chosen from a lovely painting in the V& A which I'd seen on a recent visit.
Wonder what's next in the pick and mix?!
I have been cheering myself up on this wet, windy, grey week with a lovely colourful book I found.
Will Taylor writes the Bright Bazaar blog and has the most cheerful Instagram feed I subscribe to.
He's one of those people who takes beautiful travel photos that transport you to somewhere inspiring and in this book he's grouped them to use as jumping off points for home decor colour schemes.
I have been stalking this book at TK Max for sometime and was giddy to find it cut price last week and it does not disappoint.
I love a book full of colour inspiration for pattern and design; one that you can flick through and think 'ooh I love that photo' and on deeper consideration realise that it's the colours that appeal.
I used this little snapshot on the left for a colour palette to apply to a little painted leaf pattern I was playing at.
Hope you've managed to find a little cheer this week amongst the winter weather x

Some things are worth waiting for and this is definitely one of the them – I am actually now able to hold The Pattern Base book in my excited little hands!
The Pattern Base book is by Kristi O'Meara and edited by Audrey Victoria Keiffer – cofounders of the Chicago-based design studio and online archive The Patternbase.
It is a curation of 378 pages, showcasing a collection of 681 designs from 150 contemporary textile, surface, fashion, and print designers from around the world.
Illustrative, abstract, geometric, floral, digital and constructed textile patterns are all represented here and all the work is by up and coming designers.
I submitted my surface pattern designs way back in 2012 when this was a kick-starter idea and I had no idea that I would be fortunate enough to get two double page spreads but there I am on pages 228 and 229 🙆
I had been working on a group of paintings at the time featuring vintage china and cutlery and had developed some elements into these two pattens.
These went onto be selected to represent in the Illustrative category  – brilliant!
It's not everyday you get into print so I'm having a solo studio party today! 😉🎉🍸
It's Moseley Arts market again tomorrow – was the last one really only four weeks ago?
Time seems to have condensed itself recently, don't know if the days just feel shorter because of it getting dark earlier or whether my expectations for what can be done in a day are too great!
I have been in my painting cave this week re-stocking these hand painted notebooks. They are a labour of love, I'm not gonna lie, but the emphasis is defiantly on love.
The painting of these really gets my creative juices flowing for other projects and I just love doing them. Plus I added a 'belly wrap' (get me) which just finishes them off nicely.
9-3pm Alcester Road, Mosley, tomorrow 🙂