You are currently browsing the tag archive for the 'painting' tag.
I have been working my way through the wealth of inspiration I found since returning from our 3 week adventure around some of the islands of the Outer Hebrides.
There was so much colour, texture and mood to capture.
I did try to work on site but found either the rain or the cramped cab conditions in the camper van a real challenge.
So most of my work has been done from photographs and sketchy sketches back home in the studio where conditions can be controlled!
I loved the colour palette of the Uist islands the best from all the islands we visited (I did a little write up of that in a previous post somewhere) – peaty brown, pink and burgundy – yum.
The beaches are legendary and with good reason too.
Lots of cloud and sky with beautiful delicate hues and fluffly clouds. Sometimes the weather changes very quickly and so stormy indigo blue clouds can roll in very quickly.
All of which makes this watercolour painter very happy.
As I use my blog as a diary and also as a reminder, I'm taking the liberty of playing with chronology!
We took this break in Shropshire 2 months ago back in October but I never managed to write this in a timely fashion.
And I wanted to remember many of the good things about it and not the dark and winding lane we had to endure for 15 mins before we got anywhere from the house nor the brief visit from a rat in the floorboard cavity!
But this photo pretty much sums the rest up 🙂
The surrounding landscape was beautiful and made all the more so by moody, rainy weather some days.
And being surrounded by nature (and having slow days) makes me want to draw and paint which feels like a luxury.
As does breakfasts like these.
Lottie is getting on now (11+) and each holiday usually brings a limp or broken nail but she is undaunted by the repairs to her cruciate ligaments or her arthritis and so it's a joy to see her dashing about the country while we're enjoying it too.
Made it!
Wow, that was a marathon adventure and like all good runners, towards then end I had to slow down rather than just stop and call it quits.
But like all things, its when you're stretched and challenged that growth occurs.
The daily (or technically I should say sustained) practice of showing up to paint has indeed kept me creative and accountable for doing so.
And I have found that my muscle memory and my hand eye co-ordination has improved and that I'm as surprised as anyone when I can capture a plant in a few strokes of a brush and with a limited colour range.
In short, practice makes you better at looking and capturing.
Which shouldn't surprise me really.
We know if we exercise that our muscles become stronger but probably don't talk much in those terms of the process of practising creatively.
And we should, because it does work the same way.
I have thoroughly enjoyed naming the plants in my garden – many of which I have inherited from the previous owners or Mother Nature.
And I have a unexpected sense of satisfaction to have two books full of catalogued plant names.
But I am glad it's finished now and as the season winds down I won't have the challenge of finding something new to include.
With hindsight 100 was a lot and maybe 75 would have suited me just enough.
So when I calculated that there were only enough pages in the book for 96 I took that as a divine compromise 😉
I have been falling and leaping my way through this #100dayproject of Painting Something From My Garden Everday.
It's not quite been everyday in a daily sense – more like nothing some days and three things another.
But for the most part it's become a regular practice and I've kept up…just.
Some days I accepted a less than polished finished piece in favour of doing something rather than nothing.
I've also embraced my garden weeds and found them to be pretty and deserving of a place in the final book.
I've developed a mix of approaches to method and media.
On some rainy days I was forced to complete the work inside and I found the results were far better than when I'm painting irl.
However the feeling of, the experience of painting outside is far greater and brought a greater deal of well-being that gets lost as soon as it becomes studio work.
And I have enjoyed playing again with coloured pencils, pastels and collages solutions to painting white flowers on white paper.
That's about it for now as things reach the final stretch – thank you for reading.
I am a third of the way through my #100daysproject of painting 100 things growing in my garden.
Any sustained effort on a project has highs and lows; I have had days of lag and disinterest, days where time is just too short and I fall behind and days of joy and peace found painting in quiet spots.
Mostly it's been a good discipline. A bit too time consuming on some days.
But I'm loving having a little book recording my garden growing.
And above all it's forced me to identify and name all the plants I'm recording which has been very enlightening and informative.
On with the next!
On June 1st I decided I'd commit to doing a 100days project. There were a few reasons for this:
For Christmas I got given a seed advent calendar which has been a lot of fun but also a lot of work – 25 different kinds of annuals to grow has kept me on my toes in the greenhouse. But it also means I have a lot of lovely plants to enjoy.
I had also enjoyed my residency at Winterbourne H&G so much that I had decided to try and document my own garden in a similar matter. However as is often the case when things are at home, it seems harder to paint and draw in my own garden. I have found time to do some studies and textile work but it doesn't document the changes as I'd hoped because I can't keep up the frequency of work needed.
Lastly, I'm back working at MAC (hurrah) and when I'm focussing on delivery I often find my own creativity takes a backseat.
So for all those reasons I started 100days of drawing/painting something in my own garden.
It doesn't need to be finished or good and it can be quick or slow and I'm also finding I automatically apply several styles to my work but I'm not over-thinking it – just doing it, noticing and letting it be whatever it is.
Here's the first six days.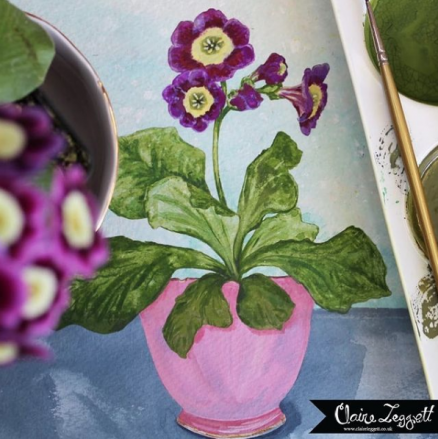 It's been a little while since I've painted some small pieces and I generally always feel inspired when Spring brings us such lovely flowers to work with.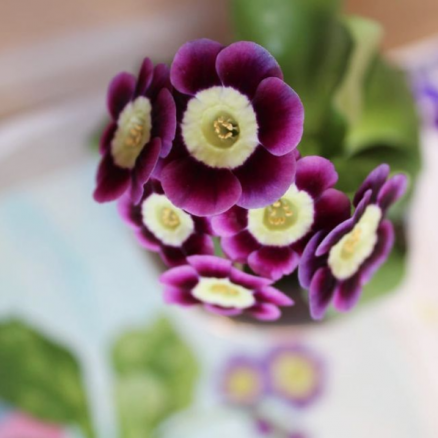 This Auricula was a lucky garden center find – they have been scarce for a few years; apparently growing conditions have not been good.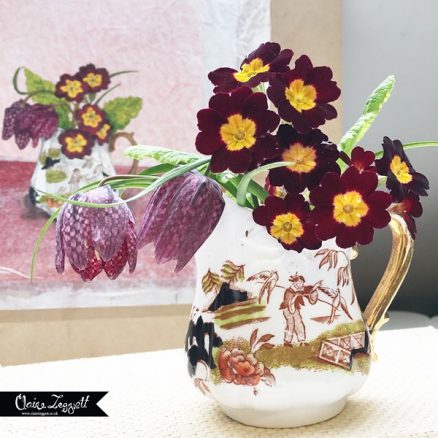 And this one is the product of my own endeavours in the garden, having cultivated a small Spring flower patch over the last few years. This year it's been at it's best with the addition last year of the Snakeskin Fritillary's.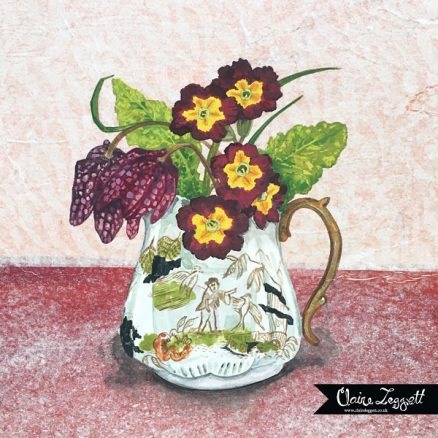 I've wanted to try and paint them for a while – they were deceptively difficult but I enjoyed the challenge. Now I'm looking forward to seeing what May brings to paint.
Just popping in with a few catch-up pieces from my residency at Winterbourne House and Garden.
It's been hard to catch a good time to be out painting because of the sudden changes in weather and temperature. One solution has been to work in miniature, although these paintings still take quite a time.
Everything is growing very fast and I'm trying my best to catch a little bit of it all as there's no way I can do all of it justice. The Auriculas have long been a favourite of mine so it was nice to capture them.
This little guy had to be caught on canvas having visited me whilst sketching one day and had a good long proper chat and even hopped around the side of me as if to see what I was doing.
Happy New Year all.
End of week 1 of a shiny new year and I've kept my new year resolution to paint something everyday – please click link to see the Flipagram.
Fingers crossed for weeks 2, 3, 4 ..!
After along hiatus in painting activity around here, I have unpacked some lovely new paints and re-discovered my happy place. Inspired by our French holiday I have added some colour and warmth to my otherwise cold studio.
One way to cope is to wear lots of layers – these dungarees are 27 years old! They started life with me at art college, have decorated every house we've ever lived in, have helped create most of my paintings and are still going strong today
 I took delivery of a new sewing machine which is able to do free-motion machine embroidery – lots of fun ahead adding that to hand-prints and the like.
And yesterday I allowed myself a moment of celebration when I saw the book I'm in on the shelf in my very own local Waterstones bookshop!
Have a happy week everyone.