You are currently browsing the tag archive for the 'painting' tag.
I am a third of the way through my #100daysproject of painting 100 things growing in my garden.
Any sustained effort on a project has highs and lows; I have had days of lag and disinterest, days where time is just too short and I fall behind and days of joy and peace found painting in quiet spots.
Mostly it's been a good discipline. A bit too time consuming on some days.
But I'm loving having a little book recording my garden growing.
And above all it's forced me to identify and name all the plants I'm recording which has been very enlightening and informative.
On with the next!
On June 1st I decided I'd commit to doing a 100days project. There were a few reasons for this:
For Christmas I got given a seed advent calendar which has been a lot of fun but also a lot of work – 25 different kinds of annuals to grow has kept me on my toes in the greenhouse. But it also means I have a lot of lovely plants to enjoy.
I had also enjoyed my residency at Winterbourne H&G so much that I had decided to try and document my own garden in a similar matter. However as is often the case when things are at home, it seems harder to paint and draw in my own garden. I have found time to do some studies and textile work but it doesn't document the changes as I'd hoped because I can't keep up the frequency of work needed.
Lastly, I'm back working at MAC (hurrah) and when I'm focussing on delivery I often find my own creativity takes a backseat.
So for all those reasons I started 100days of drawing/painting something in my own garden.
It doesn't need to be finished or good and it can be quick or slow and I'm also finding I automatically apply several styles to my work but I'm not over-thinking it – just doing it, noticing and letting it be whatever it is.
Here's the first six days.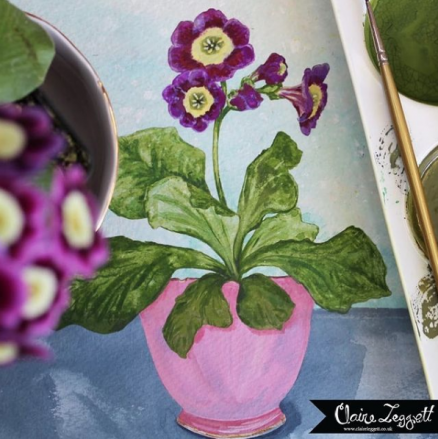 It's been a little while since I've painted some small pieces and I generally always feel inspired when Spring brings us such lovely flowers to work with.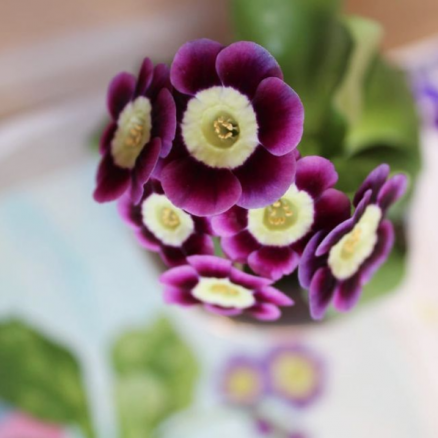 This Auricula was a lucky garden center find – they have been scarce for a few years; apparently growing conditions have not been good.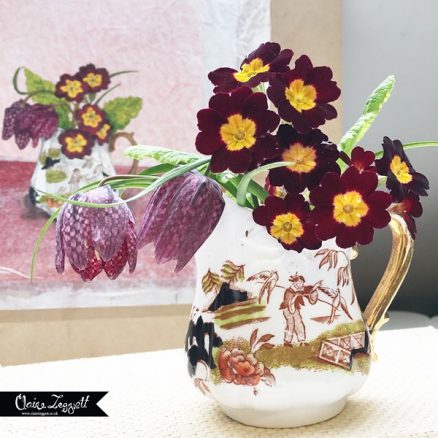 And this one is the product of my own endeavours in the garden, having cultivated a small Spring flower patch over the last few years. This year it's been at it's best with the addition last year of the Snakeskin Fritillary's.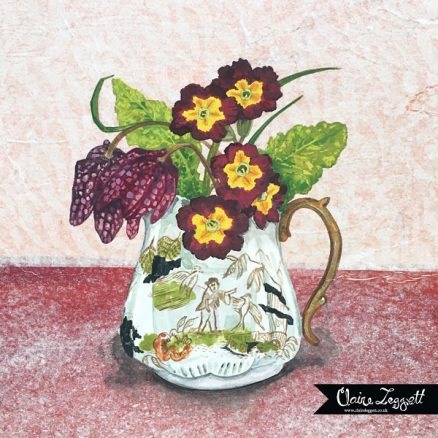 I've wanted to try and paint them for a while – they were deceptively difficult but I enjoyed the challenge. Now I'm looking forward to seeing what May brings to paint.
Just popping in with a few catch-up pieces from my residency at Winterbourne House and Garden.
It's been hard to catch a good time to be out painting because of the sudden changes in weather and temperature. One solution has been to work in miniature, although these paintings still take quite a time.
Everything is growing very fast and I'm trying my best to catch a little bit of it all as there's no way I can do all of it justice. The Auriculas have long been a favourite of mine so it was nice to capture them.
This little guy had to be caught on canvas having visited me whilst sketching one day and had a good long proper chat and even hopped around the side of me as if to see what I was doing.
Happy New Year all.
End of week 1 of a shiny new year and I've kept my new year resolution to paint something everyday – please click link to see the Flipagram.
Fingers crossed for weeks 2, 3, 4 ..!
After along hiatus in painting activity around here, I have unpacked some lovely new paints and re-discovered my happy place. Inspired by our French holiday I have added some colour and warmth to my otherwise cold studio.
One way to cope is to wear lots of layers – these dungarees are 27 years old! They started life with me at art college, have decorated every house we've ever lived in, have helped create most of my paintings and are still going strong today
 I took delivery of a new sewing machine which is able to do free-motion machine embroidery – lots of fun ahead adding that to hand-prints and the like.
And yesterday I allowed myself a moment of celebration when I saw the book I'm in on the shelf in my very own local Waterstones bookshop!
Have a happy week everyone.
I think I've exhausted the Alhambra for now but couldn't wrap up without indulging in some window views.
All painters like a good composition and a window framing a beautiful view is always a winner.
The Alhambra will give you a swore neck from craning to catch all the views from all the window frames!
I'd love to paint more of these and do a little series of them.
But for now I'll leave you with this one which really captures it all in one shot.
This pavilion is the oldest building in the Alhambra.
During the period of my life when I was busy bringing up toddlers but still had a heart to paint (which wasn't happening) I saw an artist tackle a similar scene and it was so inspiring it stayed with me.
Her name is Jean Martin and I think this is the painting I saw propped up on a gallery floor waiting to be framed.
I had to work hard to take inspiration without copying or loosing my own authenticity – I chose to turn up the colours as The Fauves would have.
Back in time again to our visit to Granada last Summer and I wanted to show you the wonderful Alhambra.
Set high up on a hill overlooking all of Granada is this exquisite place.
It's made up of several buildings which have become the Alhambra but its first building dates back to C9th.
Improvements were made and destructions too by various rulers along the way and then in C18th it was abandoned with restoration beginning in C19th.
Despite all that chequered history, it's amazing that so much of its beauty remains.
And it is simply really beautiful with craftsmanship of the highest degree and wonderful gardens and it's kept a mood of the past about it too.
Most of my painting from Spain has centred on this building partly because visiting it been on my wish-list so I was determined to make the most of it and partly because it appeals to the designer in me (all those patterns) and the painter in me (all that scenery and foliage).
I've saved all the tiles for a special blog-post of their own!
This collage sums up the mood of this place for me – old textured building materials, light and shade, the smell of oranges and perfumed flowers and the welcome cool of a trickling water fountain.
Back in August of last year we holidayed in Spain and I posted about it here. I love to travel to new places most particularly because of the new inspiration it brings for paintings and designs and I love to record it all.
However I have analysed myself and realised that I take so many photos and document everything that the quantity of the following work can be too over whelming to begin, and so I don't. And/or I leave to too long and the moment's passed and the inspiration is stale and goes to waste.
So I have been determined to change this pattern and have been working away at Spanish inspired things in between other work and commitments and I'd like to share and record it here. So seven months later here's some of my holiday snaps and the work its inspired.
We began with a week in Granada which in itself is a lovely city (can only vouch for the old part as we never went any further) It has all the old buildings and culture that you'd want plus a young beating heart  – it mixes the two well. I was also surprised to find all the same things in shops that we'd bartered for in Marrakesh but sold without the stress here!
 Granada is very hilly and the payoff for a hike is the view. I happen to love a roof top view or one where the land looks thrown out like a patchwork quilt.
 I used acrylics for this piece and was trying to match my joy of the place with my experience of painting it – sometimes I try too hard and loose the essence. So I layered it up letting colours show through and applied a Fauvist approach by turning up the saturated colours next to the cool ones.
I kept a painterly and patterned approach because that's what I saw looking out over all those geometric shapes and loved every minute of making this because it was joyful to make once I'd released myself from any photorealistic necessity.
Once I got going I couldn't stop at one – I'll show you the other one tomorrow.