You are currently browsing the tag archive for the 'gouache painting' tag.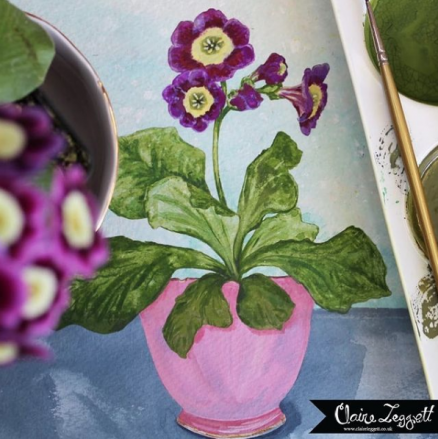 It's been a little while since I've painted some small pieces and I generally always feel inspired when Spring brings us such lovely flowers to work with.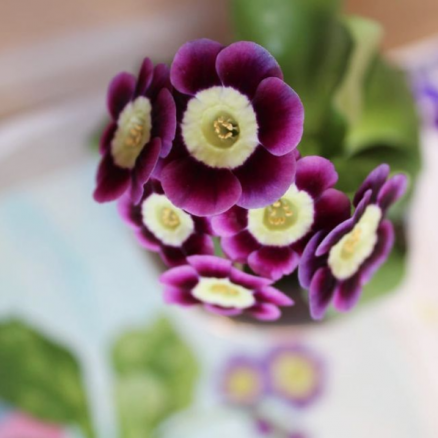 This Auricula was a lucky garden center find – they have been scarce for a few years; apparently growing conditions have not been good.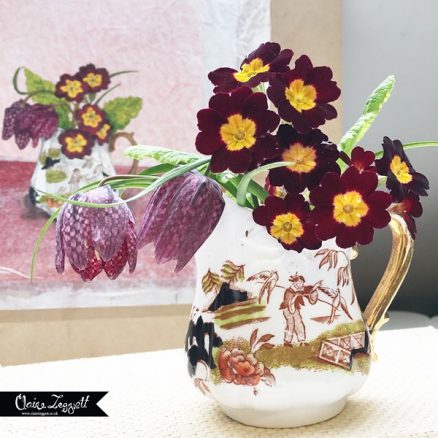 And this one is the product of my own endeavours in the garden, having cultivated a small Spring flower patch over the last few years. This year it's been at it's best with the addition last year of the Snakeskin Fritillary's.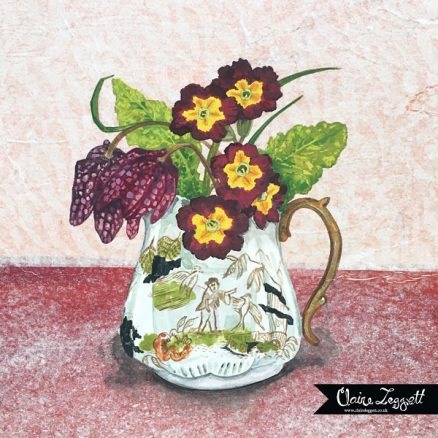 I've wanted to try and paint them for a while – they were deceptively difficult but I enjoyed the challenge. Now I'm looking forward to seeing what May brings to paint.
Just popping in with a few catch-up pieces from my residency at Winterbourne House and Garden.
It's been hard to catch a good time to be out painting because of the sudden changes in weather and temperature. One solution has been to work in miniature, although these paintings still take quite a time.
Everything is growing very fast and I'm trying my best to catch a little bit of it all as there's no way I can do all of it justice. The Auriculas have long been a favourite of mine so it was nice to capture them.
This little guy had to be caught on canvas having visited me whilst sketching one day and had a good long proper chat and even hopped around the side of me as if to see what I was doing.
Here to talk roses! They've been brilliant this year until a few weeks back when we began this tropical weather we're enjoying in the UK and a month in they've suffered from lack of water.
This week I've dedicated myself to trying to paint some before they're completely passed it but they've wilted as fast as I can paint them.
A messy rose strewn desk is a lovely thing though.
So I've done what I can and I'm off to enjoy a g&t in the sun – happy weekend 🙂

A little painting inspired by the beautiful South African Protea via my local Marks and Spencers!
I've saved my favourite place for last – Frigiliana.
Back in July 2015 we had a week in Granada (which you've already seen lots of here) and then we had another week by the coast.
Frigiliana is inland and was a short drive from where we were staying.
It just clicked with me – it's very small but so cute and artistic with lots of creative industries like pottery, weaving and painting and the nicest people.
I might even retire there one day if I can learn some Spanish!
This piece was the demo I began when I taught The Spotted Dog workshop (here) which I've finished now
Well that's it folks for my show-and-tell work from last years holiday – hope you enjoyed 😉
Do you like vintage china? pattern? painting? Want a lovely day out with a scrummy home-cooked lunch?
Then this could be just for you –  the lovely Bev and Nigel of Old Bank Studios have booked me to teach a Pattern on Pattern Teacups watercolour (gouache) class on Saturday 5th March. 
All abilities are welcome. We will work from a still-life set up and approach the painting in stages.
Or you can go at your own pace and follow your own creative leading. Either way Bev will still cook a lovely lunch for us to eat together 😛 Booking details are here.
Then on Sunday 6th March I'm teaching All Things Bright and Beautiful (Mixed Media) again at Old Bank Studios so why not make a weekend of it? It is the Mothers Day weekend – treat yourself or come together and treat your mum!
This is a fun way of working: layering up collaged papers and paint layers, starting out loose and experimentally and then adding increasing levels of detail. I'll be bringing bird and butterfly reference material but you can make your canvas of any image you want.
If you want to make a weekend of it I'm sure Bev will happily suggest local accommodation – email her here or phone her on 01255 242930. You can book onto the course here.
Harwich is a bit of a drive but don't let that put you off! (all the more reason to come for the weekend…) Bev and Nigel are two of the loveliest, most genuine people I've met and Old Bank Studios is a lovely setting to learn and create in. Oh and did I mention the delicious lunches…