You are currently browsing the tag archive for the 'contemporary watercolour painting' tag.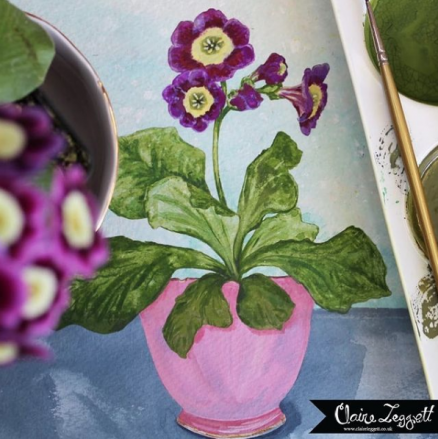 It's been a little while since I've painted some small pieces and I generally always feel inspired when Spring brings us such lovely flowers to work with.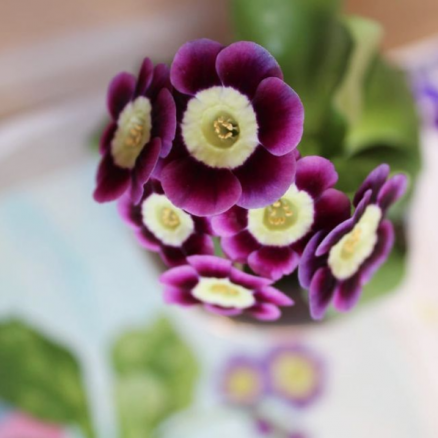 This Auricula was a lucky garden center find – they have been scarce for a few years; apparently growing conditions have not been good.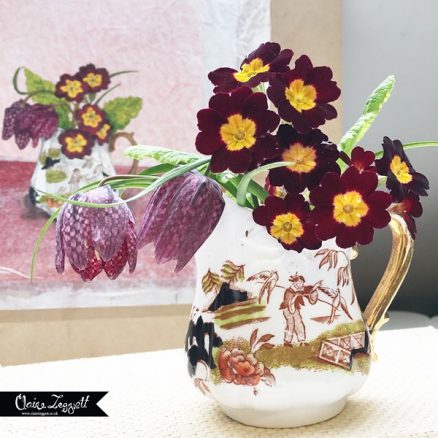 And this one is the product of my own endeavours in the garden, having cultivated a small Spring flower patch over the last few years. This year it's been at it's best with the addition last year of the Snakeskin Fritillary's.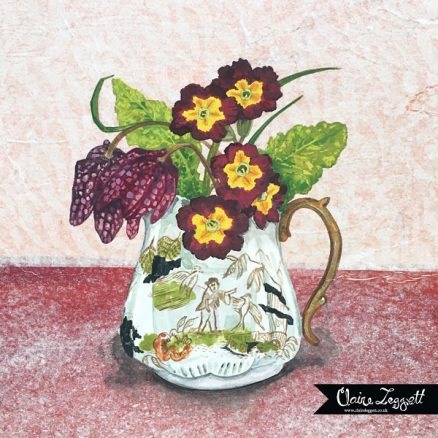 I've wanted to try and paint them for a while – they were deceptively difficult but I enjoyed the challenge. Now I'm looking forward to seeing what May brings to paint.
A little painting inspired by the beautiful South African Protea via my local Marks and Spencers!
Todays calendar page is not wrong!
After a lovely busy Summer bursting with family affairs, teaching, holidays and other welcome distractions, today is the first day I find myself home alone and able to concentrate.
So I picked this interesting Hydrangea flower from the garden and got re-acquainted with my paintbrush. It feels good 🙂
I've saved my favourite place for last – Frigiliana.
Back in July 2015 we had a week in Granada (which you've already seen lots of here) and then we had another week by the coast.
Frigiliana is inland and was a short drive from where we were staying.
It just clicked with me – it's very small but so cute and artistic with lots of creative industries like pottery, weaving and painting and the nicest people.
I might even retire there one day if I can learn some Spanish!
This piece was the demo I began when I taught The Spotted Dog workshop (here) which I've finished now
Well that's it folks for my show-and-tell work from last years holiday – hope you enjoyed 😉
Back in time again to our visit to Granada last Summer and I wanted to show you the wonderful Alhambra.
Set high up on a hill overlooking all of Granada is this exquisite place.
It's made up of several buildings which have become the Alhambra but its first building dates back to C9th.
Improvements were made and destructions too by various rulers along the way and then in C18th it was abandoned with restoration beginning in C19th.
Despite all that chequered history, it's amazing that so much of its beauty remains.
And it is simply really beautiful with craftsmanship of the highest degree and wonderful gardens and it's kept a mood of the past about it too.
Most of my painting from Spain has centred on this building partly because visiting it been on my wish-list so I was determined to make the most of it and partly because it appeals to the designer in me (all those patterns) and the painter in me (all that scenery and foliage).
I've saved all the tiles for a special blog-post of their own!
This collage sums up the mood of this place for me – old textured building materials, light and shade, the smell of oranges and perfumed flowers and the welcome cool of a trickling water fountain.
Sweet Williams are one of my best-est, most favourite, happiest, rewarding plants to grow, buy or paint.
Apparently they are named after either the 18th century Prince William or William Shakespeare
I love painting them – I love the colours, the zig-zag petal edges, the way the colours bleed and the patterning.
I often make myself little notes of encouragement to pin-up around the studio.
This one is to keep me persevering! If you want to download a copy for yourself there is a pdf here if you click the link: Claire_Leggett_Persevere Pinks.jpg you can print it off and share the encouragement 🙂
Everything has a season so they say and this year has not been my season for the garden (poor neglected thing).
However some past efforts continue to pay dividends – thank you Roses, that white weed thingy, the cow-parsley plant, my patio pots and of course the Alchemilla Mollis.

I snipped a few things I could find the other day  – all pleasingly lime green, green and yellow (thank you garden for self-theming the colours) and popped them into my 25 pence bargain jug for an afternoons play with the paints.
This painting has slipped through my blogging net!
I have forgotten to show you this orange posy of garden flowers collected and painted when summer was at its height.
I grew Marigold's for the first time this year and I'm undecided about them – they look gorgeous, giving a pop of colour to the garden but they smell weird and die quickly once picked for the house.
Nasturtiums are a favourite to paint and grow. Grey, orange and pink are my current colour crushes. Throw in an Anthropologie mug and a genuine vintage sheet (from my childhood bed no less ! ) and I hope the result is a happy and bright painting.