You are currently browsing the category archive for the 'painting' category.
I am a third of the way through my #100daysproject of painting 100 things growing in my garden.
Any sustained effort on a project has highs and lows; I have had days of lag and disinterest, days where time is just too short and I fall behind and days of joy and peace found painting in quiet spots.
Mostly it's been a good discipline. A bit too time consuming on some days.
But I'm loving having a little book recording my garden growing.
And above all it's forced me to identify and name all the plants I'm recording which has been very enlightening and informative.
On with the next!
On June 1st I decided I'd commit to doing a 100days project. There were a few reasons for this:
For Christmas I got given a seed advent calendar which has been a lot of fun but also a lot of work – 25 different kinds of annuals to grow has kept me on my toes in the greenhouse. But it also means I have a lot of lovely plants to enjoy.
I had also enjoyed my residency at Winterbourne H&G so much that I had decided to try and document my own garden in a similar matter. However as is often the case when things are at home, it seems harder to paint and draw in my own garden. I have found time to do some studies and textile work but it doesn't document the changes as I'd hoped because I can't keep up the frequency of work needed.
Lastly, I'm back working at MAC (hurrah) and when I'm focussing on delivery I often find my own creativity takes a backseat.
So for all those reasons I started 100days of drawing/painting something in my own garden.
It doesn't need to be finished or good and it can be quick or slow and I'm also finding I automatically apply several styles to my work but I'm not over-thinking it – just doing it, noticing and letting it be whatever it is.
Here's the first six days.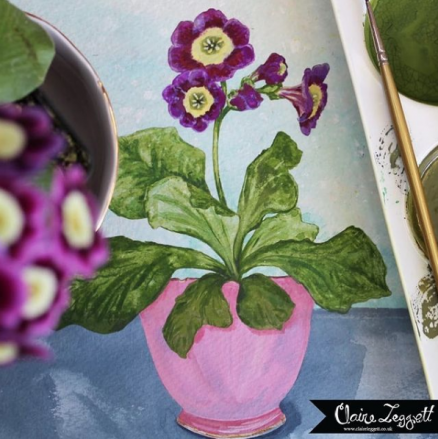 It's been a little while since I've painted some small pieces and I generally always feel inspired when Spring brings us such lovely flowers to work with.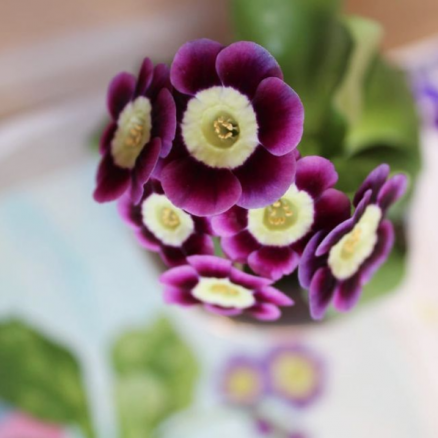 This Auricula was a lucky garden center find – they have been scarce for a few years; apparently growing conditions have not been good.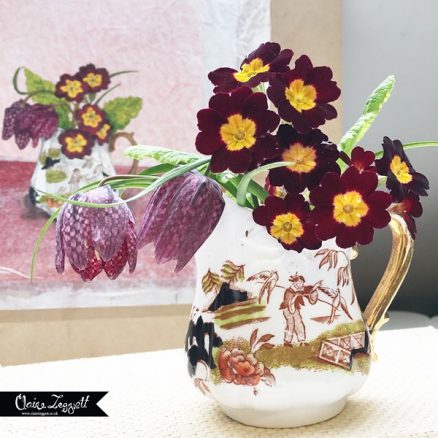 And this one is the product of my own endeavours in the garden, having cultivated a small Spring flower patch over the last few years. This year it's been at it's best with the addition last year of the Snakeskin Fritillary's.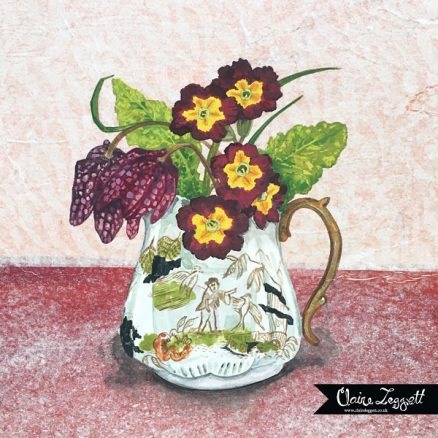 I've wanted to try and paint them for a while – they were deceptively difficult but I enjoyed the challenge. Now I'm looking forward to seeing what May brings to paint.
Here it is 🥁🥁🥁 My first online painting project for you to do at home in your own time – handy for another Lockdown. And the great news is that I'm offering an Early Bird discount – the first 12 people get access for just £12 💫
A couple of people suggested I give digital teaching a go, so I've massively upped my skill set over the last few months and recorded a painting project which you can do step-by-step alongside me.
It's a digital watercolour painting project comprising 13 videos to guide you through every step of making a still life painting of tomatoes on a plate. I demonstrate every step and there are two project options so you can find the right challenge for you.
You will learn how to stretch paper, how to use masking fluid, the Flooding and Salting techniques to create watercolour effects, the Lifting Out technique and advice on how to sketch, add hi-lights and shadows, what materials to use and how best to finish your painting. Created to offer you a moment of creativity – it is for all ages and stages and there are no expectations of you other than to have an enjoyable time.
All this to keep forever for just £15 by emailing hello@claireleggett.co.uk.
Exciting news coming soon… an online painting project from yours truly: A step-by-step, at-your-pace, video-based painting class for just £15 (with a special price of 💫 £12 💫for the first 12 sign ups) – that's less than £1 per video. And you'll have access to it forever. 13 separate YouTube videos, each one explaining every step of the process, as we paint and create a still-life together (tomatoes on a plate 🍅 or apples🍏 in a bowl, it'll be up to you). I still have a few uploads to complete and then all will be revealed…
It's been hard to ease back into a working pace this week because:
1) I have a post holiday, slow vibe,
2) My daughter Lucy has taken over my studio to do a print project of her own – which I love! – the project and accommodating her 😉
3) I've been shoved up in the corner under the roof while this happens :)))
Back in May I finished my Artist in Residency at Winterbourne House & Gardens but was unable to hold an exhibition of all the work I'd completed due to the pandemic. Life is moving on and although Winterbourne is now open again, it has been reorganised and any possible exhibition still looks a long way off.
So I have set up the work at home and filmed it. It's part exhibition of works (paintings, print, textiles and embroidery) and part artists talk where I tell you some stories behind the paintings or processes I have used.
I hope you might have a watch – it's on YouTube here and it's completely free to view.
I have updated my website to show all the work and a lot of the products I had made which were destined for sale in the shop during the run of my exhibition, if you fancy taking a look www.claireleggett.co.uk
Thank you to all who bought a piece of art and made my studio sale a great success. As it's been so well received I've decided to round up the remaining pieces in a blog post and link it to my website under the Paintings heading should anyone have missed the sale week and want to look in the future.